Obituaries
Jo-Ann Ohler
(November 18, 1935 - August 19, 2007
Sign Guest Book | Send Private Condolences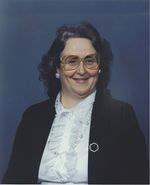 Jo-Ann Ohler, 71, of Wellsburg, WV died on Sunday, August 19, 2007 at Wheeling Medical Park Hospital, Wheeling, WV.
She was born on November 18, 1935 in Wellsburg, WV, a daughter of the late Harry and Stella Deuley Sandreth. She was also preceded in death by a brother, Buddy Sandreth, and three sisters, Mary Ellen Painter, Voneda Metcalf and Gloria Ritchie.
Surviving is her husband James A. Ohler at home, two sons, Denny Ohler and wife Kim of Follansbee, WV and Rick Ohler and wife Lori of Wellsburg, WV; one sister, Elizabeth Campbell of Avella, PA; three grandchildren, Melissa Christian, Lindsey Ohler, and Kelsey Ohler; and one great-grandchild, Cassidy Christian.
Friends will be received on Tuesday, August 20, 2007 from 2-4 and 6-8 P.M. at Chambers Funeral Home, 1030 Main St. Wellsburg, WV, where services will be held on Wednesday, August 21, 2007 at 11:00 A.M.
Interment will follow in Franklin Cemetery, Wellsburg, WV.
Condolences may be sent to: www.chambersandjames.com
Non PayPal & PayPal
In lieu of flowers, monetary donations may be sent to
The Funeral & Headstone Fund: